"Mad Hunky" Brined Canadian Bacon
Last winter, RichTee generously sent a couple of samples of his "Mad Hunky" products; one for brine, and one for rub. Judging by the "fingertip sample" that I took, it looked like the brine would be perfect for Canadian bacon.
NOTE: - This project was my attempt to branch out a bit from my first attempt; for a basic tutorial on preparing Canadian bacon, click here:
http://foodsoftheworld.activeboards.net/my-first-attempt-at- canadian-bacon_topic2371.html
My intention was to make a wet-brined Canadian bacon, giving it a healthy dusting of the rub after brining but before smoking, while the bacon is forming its pellicle. In February, I got the chance to give this a shot, but things went a little haywire. I call this project my "successful failure;" it worked, but it could have worked so much better if it weren't for my own inexperience and execution problems.
Here's what we had when we started out:
Two pork loin fillets, the Mad Hunky (MH) brine (top left), and the MH rub (top right). Not pictured: Morton's Tender Quick cure and raw (turbinado) sugar.
I couldn't decide which I liked better, the picture above, or this one below:
So I included both.
I had trimmed the loin fillets of excess fat, silverskin etc. before taking the photos, so they were ready to go. Following the instructions for using Tender Quick:
http://foodsoftheworld.activeboards.net/curing-meat-with-mor tons-tenderquick_topic935.html
I weighed the fillets and calculated 1 tablespoon per pound of meat. Then, following my normal practice, I added an equal amount of sweetness for balance; in this case, I used turbinado sugar:
Next, I prepared my brine according to the instructions, mixing it with 1 quart of water:
It was here that I made my first mistake, adding the salty Tender Quick to the brine, which had a healthy dose of salt of its own:
I set myself up for a really salty end product. This is not the fault of the brine, because it has an excellent taste very suited for pork; rather, it is my own fault for not using less of it in order to make something more diluted, which would impart the flavours without the excess of salt. It was simply a lapse in common sense on my part, and when I realized my error I figured I would soak the loin fillets in cold water for an extended period of time, in order to bring out the salt but leave the flavour behind. More on that, later.
Note - this problem could have been eliminated by using a salt-free cure, such as Prague Powder or Insta-Cure, but I had none available to me.
Anyway, once the brine and the cure were dissolved, I brought the loin fillets into the party:
And placed the ZipLock bag in a bowl, in case there was any leakage:
I then placed the bowl in the fridge, intending to cure for the required amount of days (5 days per inch of thickness) plus an extra two or three, for safety and also to get to a weekend, when I could smoke the cured loin fillets.
Here's where I made my second mistake, which surely compounded the first: rather than leaving the loin fillets in the brine for the 10 days or so that were required, I managed - through scheduling conflicts and things happening at home and work - to neglect them for over a month, and they were in the cure/brine the entire time. I was able to rotate and massage the ZipLock bag periodically in order to ensure that cure and flavours would be evenly distributed, but this was little comfort. When I was finally able to resume the project, I was a little worried about what I would find, but gave it a shot nonetheless.
The meat was, of course, fully cured and refrigerated almost to the point of freezing, so there were no spoilage worries, but the texture of the meat was a little strange, as was the colour:
Aside from being a grayish-pinkish-tan colour, the fillets had acquired a "stiff" feel to them, which I had never encountered before; I attributed this to heavy saturation with salt and the extended length of time soaking in the brine. Interestingly, the meat inside was pink and fresh-looking as could be: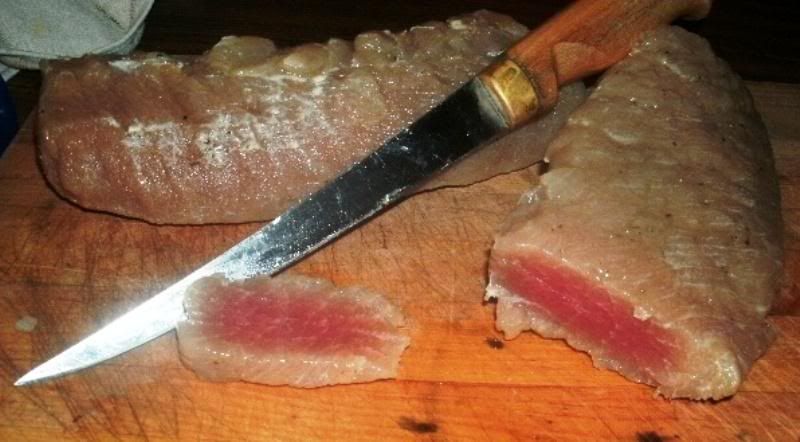 In spite of the unusual developments, I decided that it would be alright to continue to project, and proceeded to run the meat through several periods of soaking and rinsing in cold water. As I recall, I ran through the cycle 4 or 5 times, soaking for half an hour in the refrigerator each time. The hope was to draw out as much salt as possible, while retaining the brine's flavour.
My original intention was to dust the loin fillets with Rich's MH rub, to absorb the flavours during the smoking process, but I figured I had probably added all the salt I should add, so I decided to forego this goal. After the final soak/rinse cycle, I patted the fillets dry and set them on a rack:
From here, they went into the refrigerator overnight to form a pellicle.
The next morning, I fired up my Little Chief smokehouse and cool-smoked the loin fillets over hickory for a few hours, then finished them in the oven to an internal temperature of about 147 degrees. Here's what they looked like after smoking, finishing in the oven and resting overnight (refrigerated) in a ZipLock bag: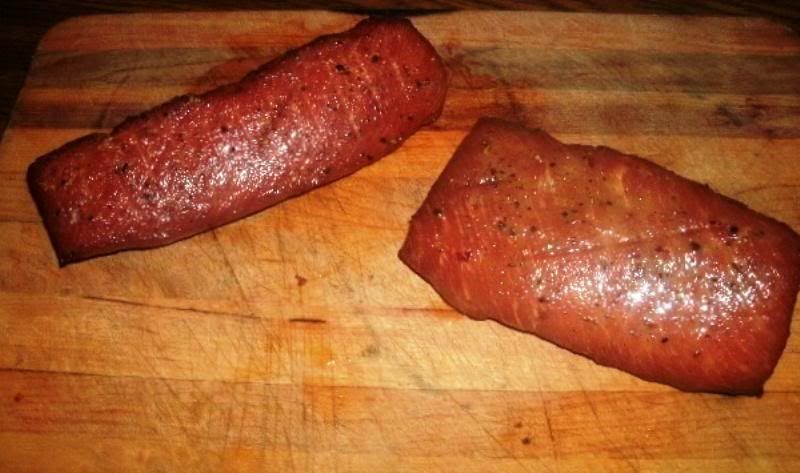 They looked great on the outside, but what would we find inside? A couple of quick slashes with my filet knife provided the answer:

They looked good to me, especially considering everything that had happened. I tried a slice and it was indeed salty, bordering on too salty, but it was definitely tolerable. The texture was stiff, almost dry, and I can only assume that this was from the effect that the extended time in salt inflicted on the meat; having said that, it was quite edible.
I sliced the Canadian bacon into moderately-thick slices: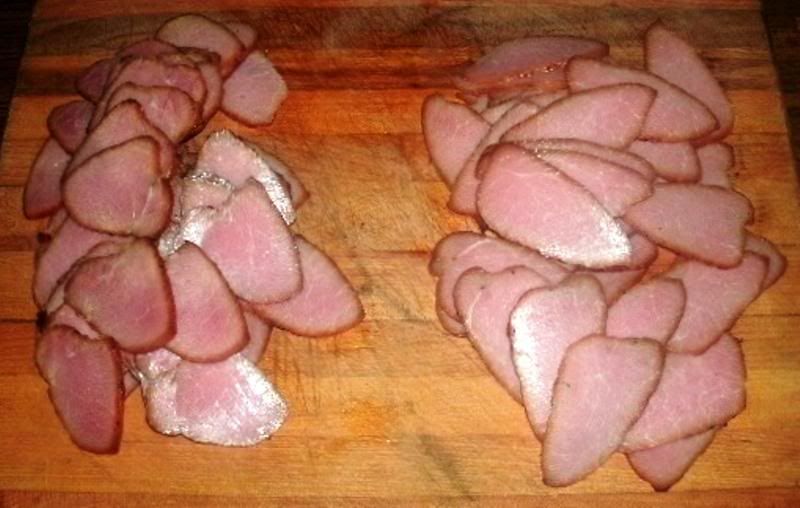 The spices and flavours of Rich's brine did come through quite well, and were a great compliment to the pork. Looking back, it might have been better to slice them thinner, as one would slice very robust deli meats, but this was ok.
Here's another shot: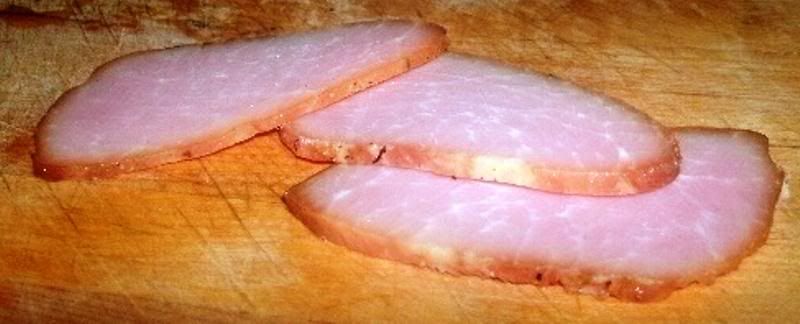 All things considered, this turned out pretty well. due to the saltiness as well as the stiff, dry texture, I didn't use this product very much as I normally would use Canadian bacon, such as for breakfast or on pizza or sandwiches; instead, I cut it up and added it to soups, or to other dishes where the "imperfections" could be compensated for, and the product could be used with better effectiveness.
Some mistakes made and lessons learned, but all-in-all, fairly successful!